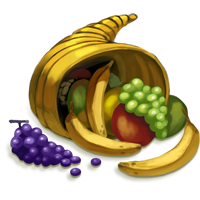 The Horn of Plenty is an item that's just brimming with treasures...
Every time you open one, you might find money, Black Market items and aging points, as well as harnessing material for bringing your horses to competitions.
Try your luck and open one up!
The Horn of Plenty (or HoP) is a Black Market Item (BMI) that can be purchased for 1 pass or 10 diamonds. The HoP can contain a variety of different items some of which include Equus, apples, and BMIs. A entry ticket to the Grand Prix can also be found in Horns of Plenty
Horns of Plenty are often featured in events - for example by opening a certain number of HoPs during the April 2012 Wandering Horse event, players could unlock a Wandering Horse. As well as this, during the April Calendar 2013, breeders could open a set amount of HoPs and get a valuable item.
Obtaining HOPs
Edit
HOPs can be obtained in a number of ways, including stroking Xanthos, buying them with passes (1) or diamonds (10), trading in the item exchange, finding them very rarely in UFOs, or winning them in events and promos.