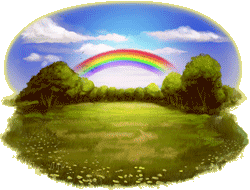 Safe Haven is a place where you can place horses that you do not want and get equus. A normal horse will give you 400 equus while a uni-fail, the non-unicorn foal of two unicorn parents, will give you 2,000 equus. A unicorn will also give you 2,000 equus. Every hour, you can stroke a horse in the Safe Haven and get 17 equus, an apple or a carrot . The first time of the day that you stroke a horse, you will get a prize, but if you stroke a horse a second time you won't get anything.
In order to send a horse to the Safe Haven, click the white plus sign in the green circle to the right of your horse's name on their page, click 'sell' and choose the option to send them to the Safe Haven.
BE AWARE that if you send a horse to the safe haven, there is no way to retrieve it. Make sure you really do not want the horse, because once you send it to the haven, you cannot get it back.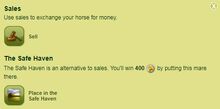 Once a horse is placed in the Safe Haven, it cannot be retrieved. Its information (skills, genetic potential, training etc.) is deleted and you lose ownership of it. The only information kept is the lineage, date of birth, age, coat, name, affix, gender, species, and breed.
Safe Haven is not to be confused with Heaven , which is the place in which horses who die of decreasing health or old age are filed.
Safe Haven has drawn much controversy between players on the game, as some view it as jail for life. The Safe Haven is intended to be an area where you put unwanted horses so they may 'roam freely' forever.
To access Safe Haven you go to "My Office" and click the Safe Haven tab.